Virginia Hall
F, b. 18 March 1946, d. 17 April 1998
     Virginia
Hall
was born on 18 March 1946. She died on 17 April 1998 of cancer at age 52.
Ellen Caroline Lansdell
F, b. 9 April 1861, d. 18 June 1949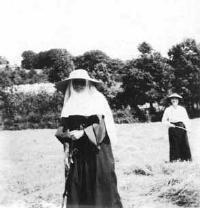 Ellen Caroline
Lansdell
was born on 9 April 1861 at Ashford, Kent. As of 1882, Ellen Caroline Lansdell was also known as Mother Lelia when she became a nun. She entered the Convent of the Assumption at Kensington, London and took her final vows in 1886 at Lyons. She returned to England to open a school at the Convent in Sidmouth in 1914 aided by 2 nuns with 3 girls from Belgium who had come to stay for the holidays. She was Mother Superior at Sidmouth from 1911-1928, at Richmond after 1928 until she returned to Sidmouth where she was Superior from 1934 until her death. She died on 18 June 1949 at Sidmouth, Devon, at age 88.